Data Cleansing / Data Enrichment / Data Correction Services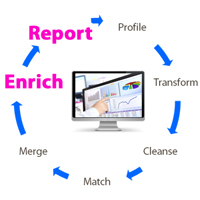 Sandlus Info Solution offers an efficient, affordable and very cost-effective data cleansing, enrichment and Correction services with minimum hassles. Data cleansing or data scrubbing is the act of detecting and correcting (or removing) corrupt or inaccurate enterprise information. Data Enrichment involves validating and adding missing information using various means such as Internet, Published Directories and publicly published information such as Press Releases etc... Data Correction involves various aspects such as creating information usable for various purpose such as building Enterprise Hierarchy, Linking Internal and External information etc...
Our services include:
Data's aggregation, organization, and cleansing .
Enrichment of data from various sources such as Internet, Published News Releases, Publicly available dictionaries etc...
Identification of missing or incomplete data .
Identify and remove duplicates in any data.
Identify, tag and resolve similar records with manual review.
Proper utilization of third party information.
Building enterprise Hierarchy for helping various initiatives such as Reporting.
Sandlus Info Solution has built its reputation by providing greater quality, capacity, turn around and value.